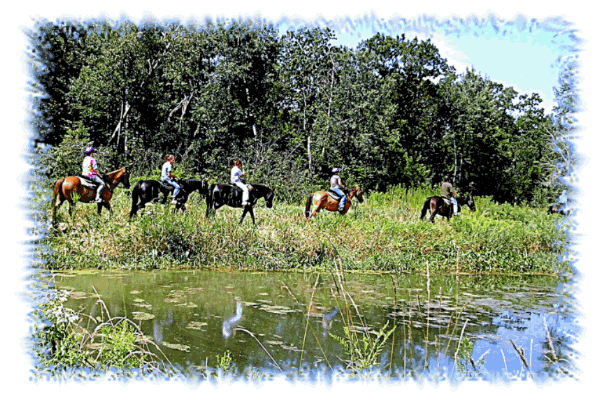 Mount up and take a leisurely tour of the ranch by horseback. Our wranglers will guide you along the way.
Our trail rides are about 1/2hour, 1hr and 1 1/2 long; traveling over bridges, winding through the hardwood forest, crossing open meadows, and winding along the creeks & ponds of the ranch.
You may see an assortment of wildlife along the trail including turkeys, eagles, hawks, song birds, blue herons, ducks, woodcock, pheasants, rabbits, frogs, raccoons, woodchucks, squirrels, coyotes, and deer. The fields are often full of colorful wild flowers and the woods full of ferns and wild berry bushes.
If you wish, our guide can take a picture of you and your horse with your camera.
Helmets are recommended and provided. Long pants and boots or shoes are also recommended. Please be prepared to arrive 1/2 hour before departure time.