The instructors will be Ray Miller, master farrier, outfitter, & packer. Bobbie Hazard, saddle fitter / trainer. Click on each of their names to go to their webpages.
Sign up now, as each class has room for only a limited amount of students.
Prior reservations are required one week or more before the event, in order to serve our customers best.
March 10th 08. "Back in the Saddle Again"
This clinic is for the person who rode as a youngster. Now, once again, they want to get back into horses. They have found that they may have lost much of the skill, knowledge, & courage that they once had when young. Communication skills, basic ground work, leading, saddling, bridling, mounting, emergency stops, building your horse's courage as well as your own, how a horse thinks & learns, grooming, feeding, hoof care, saddle fitting, and bitting will all be covered.
Class limit:
10 Participating students with horses - $100 each
15 Auditing students - $40 each
April 27th - 29th: During Mule Days Weekend
"Fix-A-Broke-Mule"
"Bare Tree Mule Saddle Fitting"
"Farrier Clinic"
We'll see what we can do to fix a few problems
and get rid of some issues in four different mules.
Then fit some saddle trees to them and check out their feet.
Class limit:
4 Participating students with mules - no charge
Spectators - no charge
Generally horse owners are more concerned about their horse's symptoms than they are of their horse's problems. What I mean by that is what folks see as the problem is really only a symptom of that problem. Find out how to assess and deal your horse's problems and watch the symptoms fade away. This class involves saddle time that the groundwork class does not.
Class Limit:
8 students with horses. $100
Spectators - no charge
Reservations required by August 11.
Additional Clinics & Subjects Covered:
Saddle Fitting;
Learn the basics of saddle fitting and rider balance. Learn how to tell if your saddle fits your horse or not. Learn about saddle construction, both english and western. Learn about what the manufactures don't want you to know about saddle and pad fit. Learn what questions to ask your retailer when buying an english or western saddle. Learn about the problems of treeless saddles or flex tree saddles Learn about the bare tree method of saddle fitting. Learn about the EquiScan system for saddle fitting. Learn about sore backs in horse and how to cure the problem. Learn about rider balance. Taught by Ms. Bobbie Hazard a certified bare tree saddle fitter and Ray Miller co-developer of the original EquiScan Computer Saddle Fitting System. This is a no charge clinic.
Farrier Science
Learn the basics of Farrier Science and Bare Foot horses. This clinic is taught by Mr. Ray Miller who was a professional farrier for 47 years. One who advocated bare foot horses long before the current rage some 45 years ago. Lean how to balance the hoof to the bone column of the horse. Learn what to look for from your hoof trimmer or farrier and the questions to ask. Learn the three times it is necessary for a horse to be shod. Lear about the different types of shoes and what that the different applications are for. Learn about lameness in horses and how to live with it and still enjoy your horse for riding. Learn about the hoof and biomechanics of the bone and muscle structure of the horse. Learn about horse shoeing and trimming. What to look for when your farrier/shoer is working on your horse. Share the knowledge that I have learned over the past 45 years. Learn about hoof balance and what the foot can tell us about the horse. Learn proper maintenance for your horses hooves. Lecture, question, and answer.
$10 charge per person.
For some articles written by Ray Miller and/or co-authored by Carla Huston go to www.horseshoes.com and click on the essay section of that web site.
Balance Riding
Learn simple steps an exercise for balance riding. Learn how to prevent your horse from have a sore back and legs due to unbalance riding. Learn how unbalance riding can affect saddle fit.
$5.00 per person
Trail Riding
Come and learn about the fun in trail riding, learn to enjoy your horse out on the open trails. Learn basic preparation for trail riding and hauling your horse. Learn about things you will need to take with you while on the ride. Learn horse first aid. This is an excellent clinic for those just starting into horse back riding and ownership. This clinic taught by experience high country guides and outfitters, as well as experience commercial trail guides. You may bring your own horse.
$5.00 per person
Horse & Mule Packing
Learn the basic's of packing a horse or mule. Learn what is needed in a the conformation of a good pack horse or mule. Lean what is needed in a good saddle mount for packing. Learn the different types of pack saddles and how to pack on each one. Learn the different knots and hitches use. Learn how to balance you load. Learn how to lead a pack string. Learn where to buy the proper equipment needed for the best value. Full filled day long clinic. This clinic is taught by high Country Outfitters and Guides. Hands on clinic.
$10 per person.
Dutch Oven Cooking
Learn the basics of Dutch oven cooking. What type of cast iron to buy, the type of wood that works the best, how to set your fire? Learn some simple recipes for on the trail. Learn how to cook on the trail. We save the best till last, sample your own cooking at the end of the clinic. Hands on clinic.
http://dutchovencooking@yahoogroups.com
$5.00 per person
Driving, Single and Double
This is a clinic for the beginning teamster or driver. Learn about starting your horse or horse to drive single or double. Lean about the different types of harness and how to harness your single horse or team. Lean about the different types of wagons and conveyance and how to hitch to each type. Learn what to look for in a good driving horse or mule. Learn the proper care for you driving horse and mule or teams before and after. Hands on clinic.
$10 per person
Thinking of Buying A Horse
This clinic is for the person who is thinking about buying a horse for the first time or a recent first time horse owner. Lean how to ask the correct questions when buy a horse or mule. Lean about the care and handling of your first horse or mule. Learn what is required of you. Learn about vet care and farriers care for you new horse or mule. Learn about saddle fit. What to buy at your feed store for proper nutrition. This clinic is taught by people who have owned horses for over 45 years. These people have shown horse in performance classes, pleasure classes, trail rode, rodeoed, work on commercial ranches, have been in the equine business full time.
No Charge
Horse Care
This clinic is for the horse owner that wants to learn proper nutrition. Learn about what the horses needs are in the way of feed. Learn proper grooming, saddle fit, vet and farrier care, first aid. Lean how to select from the thousands of retail products what really works and what dose not. Learn where to buy the best product for the best value. Learn about trailering your horse local and long distance. Learn how to maintain your horse on a reduced budget. Learn how not to get hurt around and with horses. Lean how to handle your horse feet and legs. Learn what to look for in a Vet or Farrier.
No Charge
Nutrition
Learn about proper nutrition. How your horse handles the different types of grains and it needs. Learn about different types of hays for horses and what is best.. Learn about problems that over feeding can cause. Lean about balance nutrition. Learn how to feed you horse so it remains active and young at heart.
No charge
Emergency Care at the Ranch & On the Trail
Learn about emergency care for the horse and rider on the trail. Lean what you can do for a horse that becomes injured on the trail or at home. Lean what to do in case a rider becomes injured or sick on the trial. Lean what you should take with you on the trail and have in your trailer. Hands on clinic.
Proper Fencing
Learn about to days different methods of fencing. Lean about the different types of construction, talk to different vendors about your fencing needs. Lean what is the best type of fence for you horse or livestock.. We may even teach you how to dig some post holes on the ranch at no charge.
No charge for this clinic.
Trailering You Horse
Lean the basics of trailering your horse or horses and mules. Learn about the size of truck or pulling unit you may need. Lean about the different types of trailers. Learn problem free loading. Learn what you need to have with you in your truck and trailer.
$5.00 per person
Horsemenship
Learn the basics of becoming a horseperson, not just a horse owner. This clinic covers the very nature of a horse person. Learn how to read the horse body language, know what the horse is telling you. Learn how to start thinking like a horse. What problems to look for before they happen. Learn the in and outs of horse ownership.Learn the body language of horses and what it means. Learn how to work around horses, handle the rough ones as well as the good ones. Learn the psychology of the horse, how to get along with them, get the most out of the horse you own. What to look for when buying a horse, their temperament. Proper feeding and what a horse needs for nutrition. Where you can cut corners and when not to cut those corners. Veterinary care of your horses
$5.00 per person.
CLICK ON A PHOTO FOR MORE INFORMATION ON EACH SUBJECT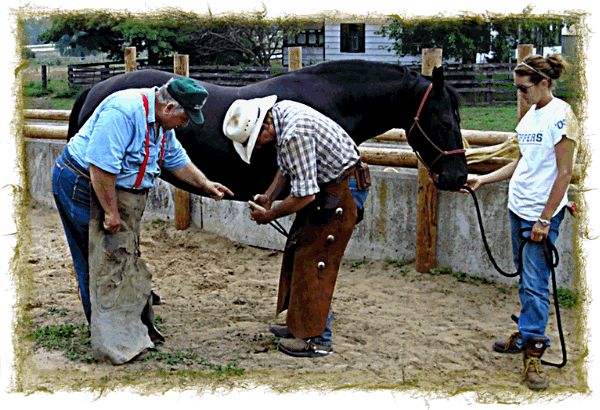 GENERAL FOOT CARE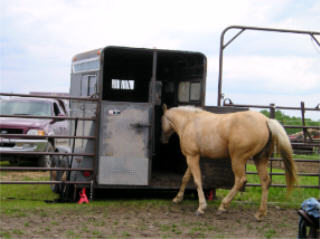 PROBLEM SOLVING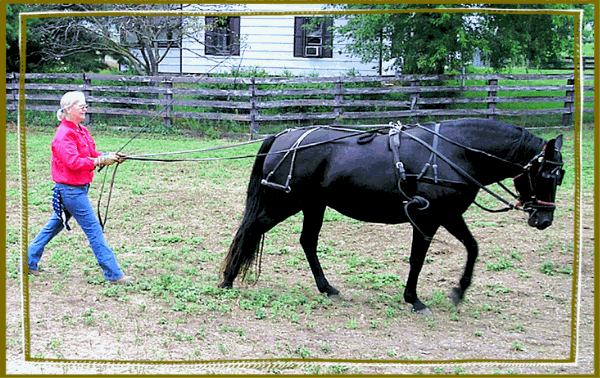 BEGINNING CART & LIGHT HARNESS DRIVING