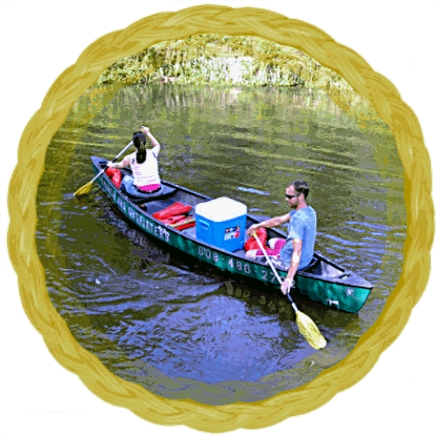 Canoe Rental -- Innertube Rental
Paddle down the beautiful La Crosse River. Plenty of water flow all year long. The La Crosse is still somewhat of a "secret" as it is not as well known as several of the other rivers in the area.
We use several drop-off and pickup points along the river to adjust your trip to the time you have available. You meet us at the ranch and we will deliver you and the canoe to the river. We can even give you a quick lesson in paddling the canoe.
As you approach your pick-up point you will need to give us a call on your cell phone. We will then come pick you up and bring you back to the ranch. Trips are from 2 hours to 8 hours or more, depending on what route you choose.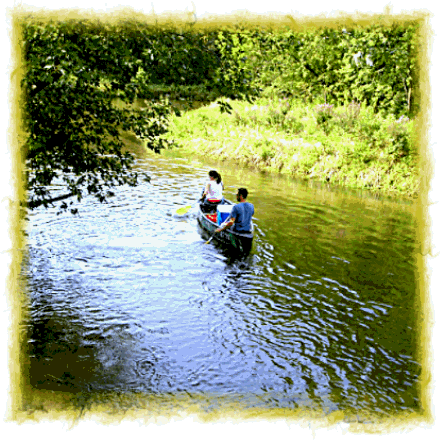 Our "Old Town" brand canoes are the top of the line. They are solid, yet lightweight, with comfortable seats. Flotation is built into the high tech, cross-link poly hull. These canoes don't sound like tin drums going down the stream as the aluminum ones do, yet they are much more rigid than the plastic types.
You can also rent our canoes by the day (24 hrs.) and haul them yourself wherever you would like.
++++++++
Tube the River
Enjoy an old fashioned innertube trip down the river. Take a step back into time where families enjoyed a day at the river. Set up a noon picnic along the river bank or have some cold fried chicken, tator salad, cold drinks or a winnie roast at the ranch after your trip down the river. Innertubes for all sizes. We will pick up and drop off the innertubes or you can pick up and drop off the innertubes.