Dillon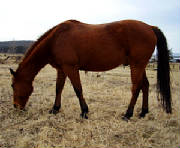 15 year old Quarter Horse
Cocoa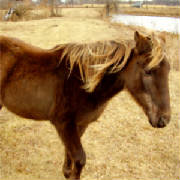 27 year old pony
Tony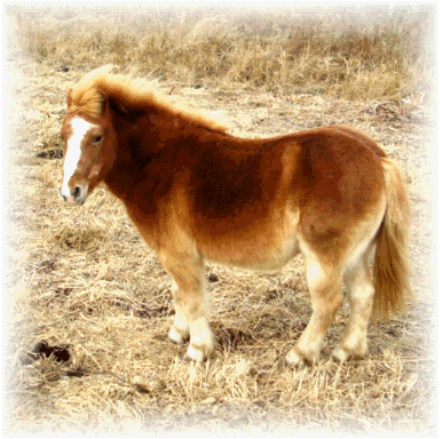 14 year old pony
Beauty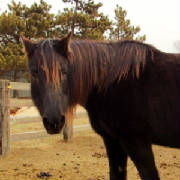 19 year old Morgan
The M&M Ranch is accepting donated horses or ponies to be used in our trail horse string, with our lead line pony rides.
Often it is hard to find an older horse, with some "age issues", a good home, and it may be impractical to keep him. We may be able to help you, help your horse, and allow the ranch to get some use out of him, too.
The M&M Ranch is not a "rescue operation". Nevertheless, a horse that fits our needs could be classified as "rescued", since we are giving him a much better alternative than older horses often get.
We will not accept just any old horse. They will have to "work" here on the ranch giving novice riders a one hour trail ride, at a walk, several times per day.
The type of horse or pony we are looking for is an older (10 - 25 yr.) horse that is good minded and well broke to ride. It may be a ranch, race, draft cross, 4H, performance, or trail horse that is still usable but may not be able to trot, or lope, due to age, slight injuries, or slight founder.
Our horses are pastured with a lot of turn-out time, fed good hay, and Purina feeds of differing types, depending on the horse's needs. Any horses we add to our trail line, pony ride, or petting zoo, are given shots, proper medication, supplements, feet trimmed or shod depending on needs, teeth floated, and are wormed on a regular basis. They are handled often, well cared for, and given an appropriate job to do. Each and every horse on the trail string has its own saddle, blanket, and bridle fitted to him. All saddles and bridles are custom fitted to each horse and remains with that horse while here.
After looking over your horse or pony, we would decide if we would accept it for a trial period. We would next put it through our trail horse program to see how it will be able to adapt to being a usable horse for us. If they don't work out for whatever reason, then the owners have the first option of taking the horse back. The training and custom shoeing received is free. The shoeing is supervised by Ray Miller a retired Master Farrier of 45 years and Tracy who has several years of experience and a sharp mind and eye. Together they have been able to help a number of horse that were brought in lame to the ranch to become serviceable again.
The ranch does take full ownership of the horse. We do reserve the right to sell or give away the horse at any time. Any horse not passing the trial period would be given back to the owners at that time. If a horse working on our trail string is put up for sale by the ranch at a later date, the original owners would have first option to purchase the horse back.
If you have a horse needing a good home with proper care and attention, please consider the M&M Ranch & Outfitters as a place for him.