"I GOT A TEN DOLLAR HORSE AND A FORTY DOLLAR SADDLE" The ole cowboy that sang this tune wasn't saying he had cheap equipment, he was bragging about what he did have. He spent more than 5 weeks wages on his saddle and over a weeks wage on each of his horses. Cowboying was his job; he needed the best he could afford. Usually a cowboy had a string of similar shaped horses and then had a saddle custom made with a tree that generally fit his horses well. As the horses got tired the cowboy would just change out one horse for another.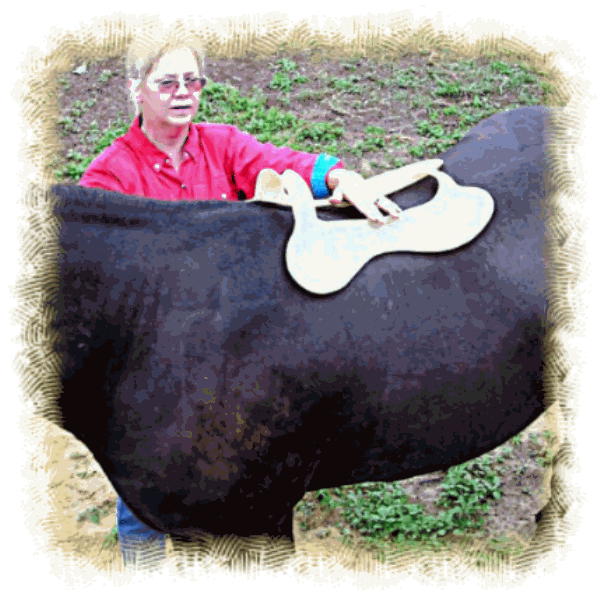 FITTING A TREE FORM TO A HORSE
Some things have changed since the old west. Horses, for the most part are now used for recreation. Normally we don't own a whole string of horses for personal use. If we do, they are seldom of the same shape.
Even though we may not work our horse as hard as the ol'e cowboy did, we do use the one we have for longer periods of time than what he did. So, as far as your horses physical well being is concerned, good saddle fit is even more critical today.
Some things are still the same. Now days, just as back then, the very best way to have a saddle fitted to your horse is to have the bare tree set on your horse's back. You can see how it actually fits. Then have the saddle built around the tree you have chosen for your horse. Just as the ol'e cowboy did.
TEN DIFFERENT TREE FORMS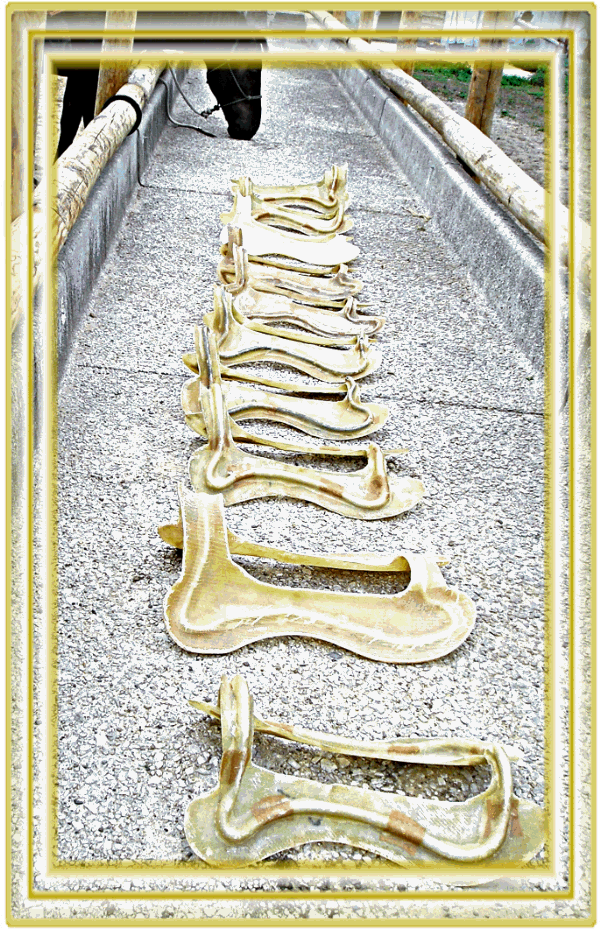 SHARON SAARES FORMS
Here's a common story:
You head on down to the local "Tack & Saddle Shop". Eyeing up the large selection, you wonder what to select. The store clerk kindy comes up to offer you asistance.
"Do you want a custom saddle or one off the rack? We have some high quality ones either way. I would imagine you'll need a saddle with a full-quarterhorse or maybe a semi-quarterhorse tree. Oh, you own an Arabian? Well then, maybe one with arab bars would be the best. All our saddles are of the finest leather. This paticular model can be made on mule bars as well."
The sales clerk seems to know his saddle trees, so that makes you feel better about trusting his judgement. And his saddles are indeed made with very good leather....
What you don't realize (and very possibly he doesn't) is that there are dozens of types and shapes of saddle trees, from many manufactures.
"Full-quarterhorse bars", "semi-quarterhorse bars", "arab bars", or "mulebars" has no valuble meaning as far as the actual shape of the tree. These are just retail terms to over simplify and make selling saddles easier. Most wood tree manufactures seldom, if at all, refer to their trees by the terms used above. Each type of tree has a paticular name. And there are many. The same named tree from two different tree companies will also be somewhat different in shape.
If you went to the auto parts store to ordered a seat cover for your vehicle, they would need more information than "full sized pickup" or "4 door sedan" to offer you a cover that fit well. But this is how many saddles are ordered.
They very well may be a quality custom saddle made with top craftmanship and quality leather.
But a top quality saddle that does not fit your horse is still a saddle that does not fit your horse.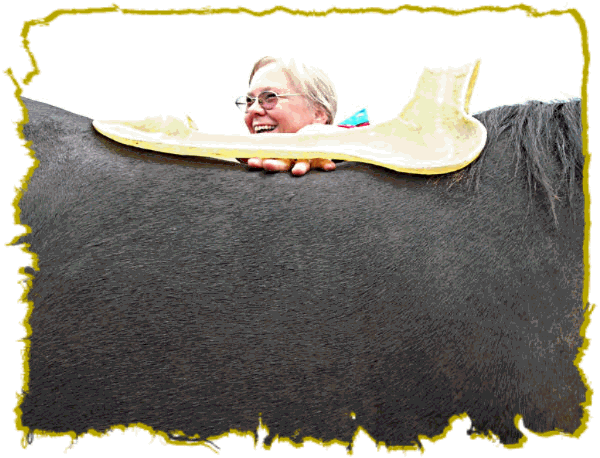 THIS FORM IS "BRIDGING"
In this clinic Bobbie will explain the basic parts of a saddle as well as the parts of the tree before going into depth on how to fit a tree to a horse. She will explain what the pommel, gullet, cantel, and bars are. As well as what the terms rocker, twist, angle and length mean when refering to the bars and how they effect your horses back.
Using her 10 different saddle fitting trees she will show you how to place the tree properly on the horse and what to look for in a good fit.
You will see how it is nearly impossible to fit a completed saddle to your horse. (Note: There are several backyard tricks to test the fit of a saddle but the only reliable, detailed, way of testing the fit of a finnished saddle is using the
Equiscan System
.)
As you fit Bobbie's ten different trees to your horse you will be amazed at how most of them will be a very poor fit, two or three may be close, and one will be usually be "just right". You will realize how purchasing a saddle or tree with "semi-quarter horse bars" is at best only a long-shot-in-the-dark when it comes to owning a well fitting saddle for your horse.
Although Bobbie will be refering to "Sharon Saare" saddles throughout the clinic, this class is not a gimmick to sell her saddles. It is an indepth, how-to clinic on saddle tree fitting. How you decide to use this knowledge is up to you.